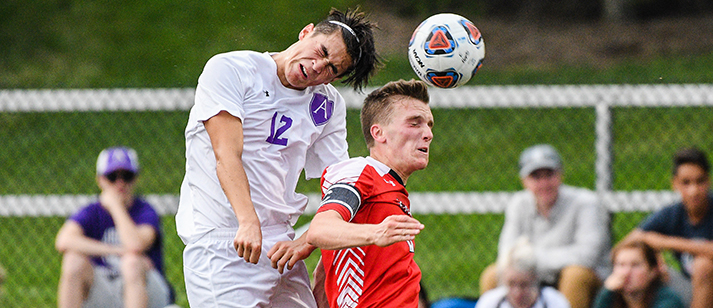 WILLIAMSTOWN, Mass. – Cutler Coleman '20 netted the equalizer at the 50:53 mark, but neither side could find the back of the goal in the final 60 minutes as the Amherst College men's soccer team and Williams College battled to a 1-1 double overtime draw Saturday afternoon at Cole Field.
"I was happy about how we battled back from down a goal," said head coach Justin Serpone. "We had a number of chances to win it...hit the crossbar and the post...but couldn't quite find it. We expect more than a draw but there were some positives that we'll take and get focused on Pine Manor. It's a quick turnaround."
With the draw, Amherst moves to 1-1-1 on the year and to 1-1-1 in conference action, while Williams moves to 3-1-1 overall (2-1-1 NESCAC). Amherst returns to the field tomorrow, Sunday, Sept. 24 when they battle Pine Manor in a non-conference bout at 11 a.m.
Williams took an early lead in the rivalry match, with Malcolm Singleton giving the Ephs a 1-0 edge at the 15:09 mark. Finding Andrew Mathew's long throw-in near the six-yard box, Singleton drove a shot over the goal line.
Evening the contest at 1-1 five minutes into the second half, Coleman notched his first score of the year at the 50:53 mark. Earning a corner kick, Coleman teamed up with Gabe Gitler '21, heading his kick past the Ephs' keeper and into the nylon.
"Will Cohen and Cutler Coleman really stood out today," noted Serpone. "Both worked really hard in the offseason so I'm glad that it paid off in their performances."
The Mammoths nearly tallied the go ahead score twice in the next 25 minutes, as both Weller Hlinomaz '18 and Aziz Khan '18 powered shots off the post at the 54:35 and 73:35 marks, respectively.
Amherst out shot Williams 6-1 in the two overtime periods, but was unable to slide a shot past Bobby Schneiderman as the physical matchup ended in a 1-1 tie.
"All in all, it was a really good college soccer game," continued Serpone. "Both teams fought hard and made it another enjoyable Amherst- Williams game."
GAME NOTES
In between the pipes, Lee Owen '18 made two stops for Amherst in 45:00, while Kofi Hope-Gund '21 (0-0-1) recorded three saves in 65:00 in relief. Schneiderman (2-1-1) registered six saves for the Ephs in the draw.
Amherst owned the advantage in shots and corner kicks, 17-14 and 11-2, respectively.
Hlinomaz led the Mammoths with four shots, while Coleman took three shots.
Malcolm Singleton took a game-high five shots, including four on target, while Kyle Brady added two shots for the Ephs.